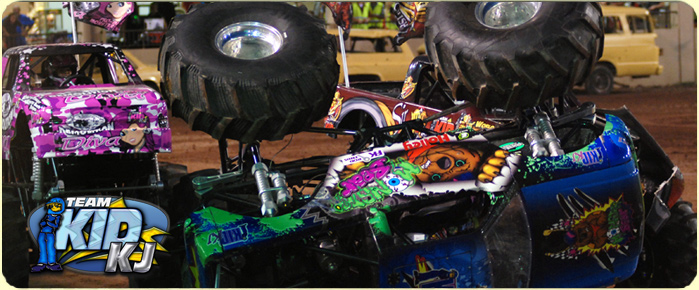 Join Team Kid KJ!
"Have a passion to drive and you are between the ages of 7 and 17? Have your mom or dad send us an email and apply to be one of our up and coming Professional Drivers competing in this years racing series before millions of fans on the national tour. Represent our sponsors, promoters and the team. The only kids Professional Racing Team with that puts you out in front of the same fans and perform with all of the other professional motorsports drivers!
Kids Monster Truck Training:
$2,000.00 per child for weekend from 8AM Saturday til 5PM and Sunday 9AM to 2PM. Adult must accompany. Training takes place in Ocala, Florida. Email us today at: info@uncletodmotorsports.com!

UNCLE TOD MOTORSPORTS
The Monster Truck Entertainment Company
Welcome to the official web site of Uncle Tod Motorsports, home of the worldwide phenomenom, Kid KJ & The Lil' Mighty Monsters. We specialize in providing family-oriented monster trucks and show cars motorsports entertainment for a variety of venues including fairs, company events, racing events and concerts just to name a few.
For all our latest news and information, visit www.KidKJ.com!