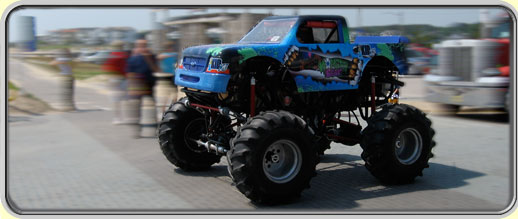 MONSTER BEAR DRIVEN BY KID K.J.
1/2 Scale Monster Truck
The Monster Bear is a 1/2 scale monster truck driven by Kid KJ. The idea behind the Monster Bear was to get kids more involved and closer to the action then ever before. Since making its debut Kid KJ and the Monster Bear have done just that. Fans are simply amazed when they see that the Monster Bear is driving by a Kid KJ.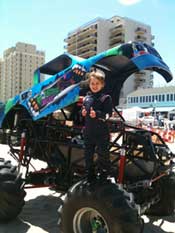 The Monster Bear is designed just like the race monster trucks seen on TV but with some modifications just for Kid KJ.

The Monster Bear was designed with the following specifications:

Monster Bear Specs:
Make/Model: 2009 Ford Super Duty

Engine: 200 HP, Ford 4 Cylinder

Chassis: Custom Monster Truck

Safety: RII, Onboard Fire System
& SFI Fuel Cell

Communication: Driver to Crew Radio System
For more information about Monster Bear, Kid KJ and some Monster Truck fun, watch for the Kid KJ Website coming soon!
You can also give us a call at (954)358-1900 or email us at info@uncletodmotorsports.com